History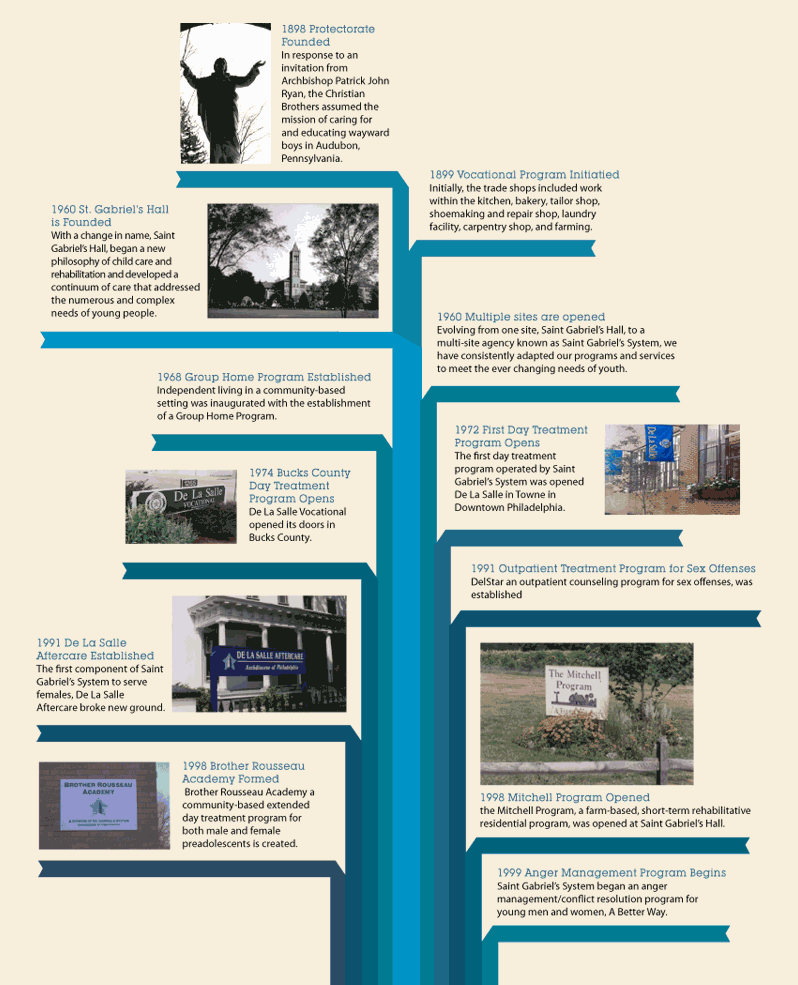 For over a century, Saint Gabriel's System has been serving troubled youth in the spirit of St. John Baptist de La Salle. On November 3, 1898, in response to an invitation from Archbishop Patrick John Ryan, the Christian Brothers assumed the mission of caring for and educating poor, young wayward boys, along with the responsibility of administering the Philadelphia Protectorate for Boys, later to become known as Saint Gabriel's Hall, located in Audubon, Pennsylvania. Through the years, Saint Gabriel's has remained committed to the words of the original mission statement, promulgated in 1899, "maintaining an institution for the protection and training of boys, wherein they receive a proper education and be instructed in useful arts and handicrafts."
From its inception, those working within the Protectorate have been committed to providing educational services to young men who experience poverty and frustration in their economic, social, psychological and spiritual lives. At Saint Gabriel's Hall, these disenfranchised boys found a safe haven and were provided with basic education and learned job skills which allowed the Protectorate to be self sufficient and gave the boys a job skill that they could use following their release from the facility. Initially, the trade shops offered to the boys included work within the kitchen, bakery, tailor shop, shoemaking and repair shop, laundry facility, carpentry shop, and on the farmlands surrounding the Protectorate.
These opportunities remained available to the boys until the 1960's when, along with a change in name, the Protectorate, now Saint Gabriel's Hall, began giving effect to a new philosophy of child care and rehabilitation and developed a continuum of care that addressed the numerous and complex needs of young people. Evolving from one site, Saint Gabriel's Hall, to a multi-site agency known as Saint Gabriel's System, we have consistently adapted our programs and services to meet the ever changing needs of youth.
In 1968, independent living in a community-based setting was inaugurated with the establishment of a Group Home Program. Thereafter, in 1972, the first day treatment program operated by Saint Gabriel's System was opened and in 1974 our second such program, De La Salle Vocational opened its doors in Bucks County. In 1991, an outpatient counseling program for youth adjudicated on a sexual offense, the DelStar program, was established and, later that same year, De La Salle Aftercare broke new ground as the first component of Saint Gabriel's System to serve females. In 1996, the Victims of Crime program became the first program to serve clients not committed to us by the court. Two years later, in 1998, Saint Gabriel's System announced the creation of Brother Rousseau Academy, a community-based extended day treatment program for both male and female preadolescents. Also in 1998, the Mitchell Program, a farm-based, intensive short-term rehabilitative residential program, was opened at Saint Gabriel's Hall. In 1999, Saint Gabriel's System began an anger management/conflict resolution program: A Better Way for young men and women.
All of these programs of Saint Gabriel's System reflect the wide array of services that we offer young people in furtherance of our mission to assist them in becoming responsible, competent and productive members of the community. Throughout history, Saint Gabriel's System has adapted to meet the changing needs of our young people and has provided an individualized, integrated and practical approach, educationally and therapeutically, to those